As usual these notes are purely for me and I don't expect them to make much sense to others.
Bricolage – I think this is the way I work. I am a bricoleaur, that is someone who works with the materials on hand. The term sits better with me as I don't consider myself as an artist and struggle to speak the word out loud if anyone asks what I do/am.
The Invention of Craft by Glenn Adamson
What object would you use to describe your journey here? The lives of objects  – talking about the importance of objects in our lives. Ridding the object of the emotion…. the holding  space… the tactile step away from the mother, the moving away from the breast onto an object. This is usually tactile, fabric or could be mother's hair.
We discussed D W Winicott's paper Transitional Objects and Transitional Phenomena. I stated that I have difficulty in accepting such statements as 'The infant perceives the breast only in so far as a breast could be created just there and then.' How can anyone say what an infant perceives?
We all come into the world with a need to be cared for.
Woolly thinking, the unfolding of thoughts – metaphors relating to fabric.
Flannel suckers, blanky, we talked about the personal fabrics of our babyhood. Nothing special for me but I recall flannel sucking in the bath. The loss of these items over the years – a gradual moving away from them, often kept in drawers until adulthood.
Juliet Ash who keeps her dead husband's ties. Bereaved people often keep article of clothing belonging to a dead loved one – the smell is very potent.
We have talisman pieces of clothing – lucky to wear – we come back to them, don't throw them away, invest emotion in them.
Angela went on to her own work. Using blood red yarn from a Scottish mill she and her mother knit the same piece of work from alternate ends. It's joining them …. the stuff that we don't talk about between people who are close to each other. But as they are working the yarn is taking them further apart physically.  Angela is reading Martin Heidigger to inform her practice – the present at hand, the near at hand.
We looked at and discussed a series of images chosen by Angela. Thinking that this could be be a way forward for me….. find ones I like or have used in the past and analyse in depth why I've chosen them.
Oil paint on canvas, frame: 640 x 833 x 85 mm
Tate
Jeux d'Enfants  Oil on Canvas
11 x 7 ins
Private Collection
The space between the wall and the hair – challenging the boundaries.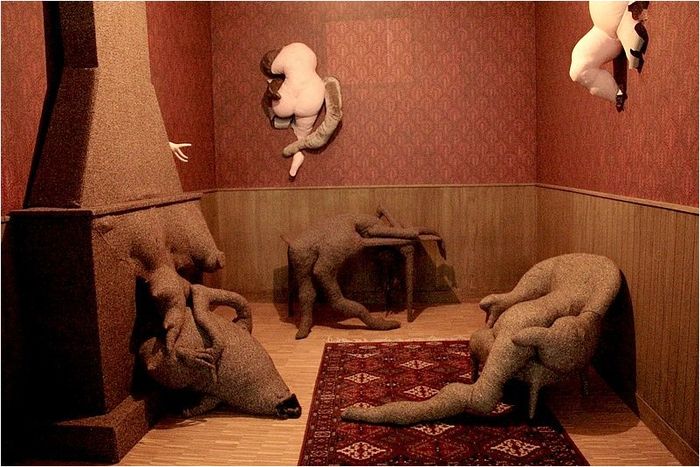 Room 202, Hotel du Pavot
We looked at several of Louise Bourgeois's works including
Femme Maison 
which was a series of images she produced. An interesting article
 is here
.
Femme Masion 1946-7
The Woven Child 2001
Mary Cassatt was an artist I came across during my access course and I did a small project on her. She painted and printed images of the domestic, the interior whilst the men were outside.
The Child's Bath, 1893
Oil on canvas, 100.3 x 66.1 cm
Art Institute Chicago
This talks about the 'good enough mother' as could be a maid and shows the holding space between the two.
Breakfast in Bed, 1897
oil on canvas, 58.4×73.7cm
Huntington Library and Art Gallery, San Marino, CA, USA
The space, holding, loving, yet tension, could be anger, fear, play.
Untitled begun in 2003
'Miller & Shellabarger have been simultaneously crocheting a tube out of pink acrylic yarn since 2003. The tube is a metaphorically-loaded object (penis, umbilical cord, etc.) that both unites and separates them. As the tube grows, it keeps them tethered together as it pushes them apart. "Pink Tube" is an ongoing performance of indefinite duration, always in public, always together.' This has been copied from Western Exhibitions Scot Speh Gallery, Chicago.
They have chosen to use crochet (even more 'down market' than knitting) in pink acrylic yarn. When one dies the work will be unravelled.
More knitting – this time by Lindsay Obermyer.
Encircled 
Mother and Child, 1953 (bronze with light brown patina)
A very stark sculpture – the baby biting the breast or the mother wishing to strangle her child?
Another example of two artist being joined by knitting.
Franz Erhard Walther and Santiago Sierra Demonstrating work No. 46 from Walthers First Workset "Sehkanal 1968″
One of my favourite artists next Shiota Chihura
Over the Continents
Each thread is attached to a shoe.
Fences  (ongoing)
Lise Bjorne Linnert  writes on her website
Concept:
The starting point for Fences is a performance I repeatedly do in public space, I stitch with red thread and create or visualize a small hole in fences. The stitched trace is modest in size. If possible it is around a broken part of the fence, the red thread highlighting the hole. On one hand it is a trace of care informed by the manner of stitches and the labor of doing it. Simultaneously it is an intrusive performance done on private or official properties without any permission.
This red trace has so far been left at 110 locations globally. Each spot is chosen for a specific reason. Sometimes the reason is obvious and connected to the location´s political or historical reference, such as in Jerusalem, Tel Aviv, Berlin, USA/Mexico border.  Other spots are chosen for a personal reason. The stitched trace is documented with photo and a written response. The response being short observations, stories connected to aspects of being on the inside or outside; personally, politically or historically
I work with fences, an obvious symbol of boundaries and barriers, with a yearning to look inside, touch boundaries; also those not created in steel but created through interrelations. Reactions from people passing me vary. Most people just look and start to walk faster as they pass me. Some stop and stare and say nothing. Some would like to help. I have had people react with anger. In some places I feel hugely uncomfortable when doing the work. When I leave,  the stitched mark becomes anonymous.
The project is ongoing.
Knit, Undo and Fix
Celia Pym takes old knitted clothes and darns them to make them whole again.
The lecture finished with an image of a 'lost' poster. Some one had lost a hand spun and hand knitted jumper made by Mum. He'd left in the refectory and was appealing for it's return. Again emotional investment in the garment from both the maker and wearer.
Reminded me of Dad's sweater.
 It was in the late 50s or early 60s that my mother discovered circular knitting needles and patterns that featured knitting in the round. After 40 odd years of knitting plain (both in colour and style) basic woollen garments she decided to be adventurous. She made my father a sweater using oiled wool in green and cream based on a Norwegian design – a radical departure for her. I can remember her reciting the pattern 'green four, cream six, green ten' and so on. The yarn not employed in the stitch was carried through the back of the knitting so a very firm fabric was produced.
After weeks of working on the garment my mother gave it to my father. Neither of them were demonstrative and I, being a child, have no idea how it was received.
However I was aware of the arguments it caused over the years. This sweater must have been so uncomfortable to wear as it was rarely cold enough to warrant such a garment – when my father did he was always unbearably hot as well as not being able to move in such a firm fabric. He never worn it through choice, only when nagged by my mother.
Being reserved my father was never explicit in his reasons for not wearing the sweater but he was berated as all my mother could  interpret was the rejection of her love. And love was something never spoken about out loud!  Instead they had heated words; the sweater was mentioned time and again over the years.
My mother died 16 years before my father but the sweater (and I have to call it that as he did sweat in it) remained in his chest of drawers until he died.  I bundled it up to go to the charity shop amongst many other of his  processions………..